Quality
Output control
Our company has at their disposal a wide range of precision measurement gauges and tools which are regularly calibrated by accredited testing laboratories and continuously restored and restocked as necessary for production and in accordance with our customers' needs. These gauges are used both in production and output control before the parts are dispatched. Each operator's position, both in production and output control, is equipped with magnifying glass lamps to secure the highest quality even of the smallest parts. For measurement of components or parts complex in shape, precisely formed or even immeasurable by conventional tools, we use the WERT ScopeCHeck 3D, a modern tool of optical measurement.
Packing and dispatch
After the output control the machined parts are packed in accordance with requirements and with the use of such wrapping material which meets customers demands, or with the use of our own wrapping materials, and are dispatched by our contract carrier within the agreed delivery date to the customer. All the parts are supplied free of waste product - for cleaning the stainless steel and plastic parts we are equipped with a wash machine which cleans the parts in two steps. The first step is actual washing with cleansing agent, in the second step the part is rinsed with demineralised water (so called Demi), which preserves the highest glossiness of surfaces without mineral deposits and stains.
Laboratory Control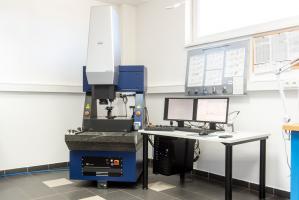 In order to maintain a continuous production quality and final quality control of our complex-shaped or highly precise parts, our company has been provided with an air-conditioned control lab equipped with high-end gauges since 2014. The lab is fitted with a highly accurate 3D CNC WERTH SCOPECHECK FB gauge, featuring a 400 x 400 x 300 mm of measuring surface. This machine is capable of optical measuring, measuring using touch sensor or laser beam with accuracy of E=(0.75+L/500)µm.
The lab is also equipped with an endoscopic camera, laboratory-grade gauges for abrasiveness measurement around hard-to-access places and laboratory-grade length gauges. With output data from these machines, we can satisfy even the most demanding customers. It goes without saying that the devices are operated exclusively by qualified and skilled personnel.
Input material inspection
The materials for production are purchased from our long-proven suppliers who are able to provide flexible deliveries of top quality materials. Based on our long experience with levels of workability, we only accept materials with origin in the EU. Having the materials delivered together with proper certification is a matter of course. The material and completeness of delivery are inspected immediately upon reception. Concurrently with the inspection a check for visible flaws is carried out. Timely withdrawal of low-quality rods helps us avoid any possible issues which could occur during the machining itself.